Members of Kona RC Flyers Inc enjoy designing, building, assembling, flying, maintaining and repairing model aircraft. As KRCF's members, we are also members of the Academy of Model Aeronautics (AMA).
Kona RC Flyers Inc was formed in the early 80's and flew at the "Old Kona Airport" park in Kailua-Kona continuously until 2012
From 2013 to 2017 we flew at the Honokohau Harbor field. At the end of 2017, we lost the use of the field. In March 2018, we returned to Old A Park while we awaited permission to return to the Honokohau Harbor site.
On Jan 1 2020, we returned to the Honokohau Harbor site.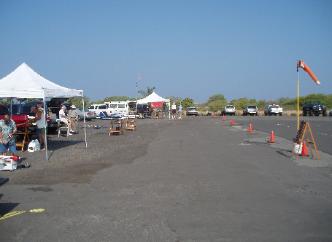 Kona RC Flyers on the runway at the "Old Airport" or "Old A" Park in Kailua-Kona Hawaii.